Monster Sport "M19 Bore-UP Piston & Cylinder Block Kit" Suzuki Swift Sport 05-11
Produktbeschreibung
Monster Sport M19 Bore-UP Piston & Cylinder Block Kit
- Hubraumerweiterung von 1,6 auf 1,9 Liter Suzuki Swift Sport 05-11
- fertiger Block inkl. Kolben, Dichtung, Montagezubehör


Displacement of M16A becomes 1,884cc from 1,586cc, keeping same stroke.


Performance, strength, weight and shape have confirmed by 3D computer simulation.

*This kit needs full range computer or sub-computer re-setting.






Part Name

Part number

Price

Remarks




M19 Bore Up Piston Kit

NA high compression

139900-4650M

4899,-

FOR ZC31S M16A ENGINE[1,586cc→1,884cc]WITH BIG BORECYLINDER BLOCK [SLEEVES REPLACEMENT]




Turbo・Super charger

139960-4650M
-Spec
Displacement

1,884cc
[Standard 1,586cc]

Bore × stroke

85mm×83mm
[Standard 78mm×83mm]

Compression
[With high compression cylinder head.]

NA
high compression

12.2[Standard 11.1]

Turbo・Super charger

10.5[Standard 11.1]

Attachments

Piston×4
Piston ring set×4
Circlip×8
Piston pin×4
Modified cylinder block×1
Head gasket×1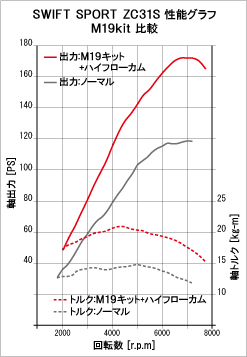 Red line:M19 kit + Monster camshaft
+Monster modyfied Cylinder Head
Gray line: Standard

Cylinder block processing
Sleeves replacement
Top of cylinder block grinding
Cylinder boring
Cylinder horning
NOTE:Suzuki Original Cylinder Block Part Number must be11200-54LC0 or 11200-57K04.